March 18, 2013
This is a bloghop hosted by the Ninja Captain himself, Alex J. Cavanaugh. This is a list of my top 10 movies. Here we go . . .
The Long Kiss Goodnight
- This is my favorite movie of all time. Gina Davis and Samuel L. Jackson have awesome chemistry. The story is well-developed and action packed. If you love a movie about a spy turned teacher, turned spy again, this is the one for you.
Big Trouble in Little China
- Yes, it is a cheesy karate movie with Kurt Russel and Kim Cattrall. But I love this movie, down to the tacky and the horrible special effects. This movie reminds me of the times I spent babysitting my little cousins in the Bronx. I was 15 years old and my cousins were extremely hyperactive. Good times! So go catch it on Netflix.
The Matrix
- What is real and how far the rabbit hole are you willing to go? One of the best science fiction movies ever made. Keanu Reeves and Lawrence Fishburne give an excellent performance. This movie questions the human experience. Concrete Reality vs. Surreal Virtuality.
The Last Dragon
- Another corny martial arts film that is awesome. This is another film that I watched with my little cousins. They loved all the martial arts films. To this day, my cousins joke about this fim and they say "Sho-nuff!"
Independence Day- Most have seen this film. This is film has excellent storyline and character development. This is one of my favorite Will Smith movies (I, Robot comes a close second but not on this list because I can go on forever about all my favorites). Many different perspectives are exhibited throughout the film and the imminent alien invasion literally hovers over their heads.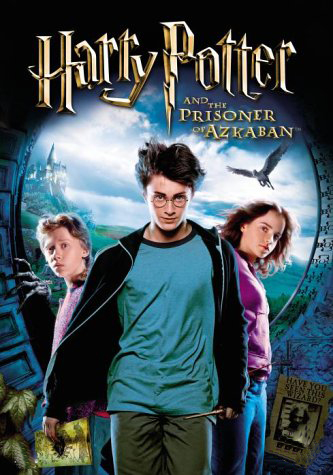 Harry Potter and the Prisoner of Azkaban- Yep, I am a Potter fan/ geek and all around know it all. I suppose that is why I identify so strongly with Hermione Granger! I even own a timeturner. I suppose I love all the films with time travel. With each book, I mean film, the overall tone becomes more dark and menacing. Harry is developing as an adolescent and becoming a powerful wizard, with the help of his friends. It is good against evil. Bring it on!
The Sound of Music
- Okay, don't kill me. I know this is probably the most annoying film for my family . . . but I LOVE THIS MUSICAL! I know every song and and all the characters and most of the dialogue. I have loved this film since I saw for the first time at six years of age.
The Lord of the Rings: The Return of the King- Aragorn is so hot! He kills it in this epic saga. Need I say more.
The Chronicles of Riddick- This is another favorite film. While I did not like Pitch Black, because it gave me the heebie jeebies, I loved this film. It also has great sentiment. My husband took me to see this film on my 31st birthday. He even had a cake in the movie theater. I don't know where he hid it but it was a rich, chocolate mousse cake. Good times!
Toy Story- Hands down, the best Pixar 3-D computer graphics animated film. This was my son's favorite when he was 3 years old. We played it every day sometimes two or three times per day. I love the characters, the themes, and of course the sophistication of the drawings. Love, love, love!
Well, that is all folks! Leave a comment and go visit the other participants on the bloghop.